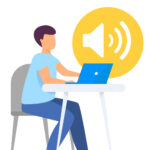 What is a cookie?
A cookie is a text file which is downloaded to your computer when you visit a website. In this text file, the website stores information that it would like to read the next time you visit the page. It is often information that is used for improving your experience, such as not opening a popup multiple times if you've already seen the content once. Cookies are also used to collect statistics on the website's usage.
A cookie is a text file, not a program file. This means that the cookie cannot do anything on your computer itself. It cannot collect information, spread viruses or otherwise harm. The contents of cookies are read and written by the websites you visit as a user.
Cookies may have different life spans: they may stop at the end of a browser session (i.e. from the moment when the user opens a browser window until this is closed again), or they may last for a longer time and cover several browser sessions. Cookies may also be divided into first-party cookies and third-party cookies, according to the party placing the cookie on the website. First-party cookies are those placed by the owner of the website, who is the party that the user is interacting with in the first place. Third party cookies are those placed on a website by a third party, where the third party or others get access to the data collected.
Cookie declaration
This privacy notice has been last updated 24th of June 2021.
Seluxit retains the right, in its sole discretion, to change this Cookie policy at any time. You may access and print this Cookie Policy at any time via www.bit.wappsto.com/privacy-notice. If significant changes are going to be made to this policy, you will be asked to accept the cookies again under the new changes. However, we recommend you check our cookie policy on a regular basis.
Links to legal documents on bit.wappsto.com
Links to legal documents on seluxit.com
Webshop T&C for Consumers (PDF)
Learn together with Wappsto:bit
Start experimenting with fun projects