The Twitter Wapp lets you send Tweets directly from Wappsto
1) Log into Wappsto.com and Twitter.com.
2) On Wappsto, click store in the left hand menu.
3) Find the Twitter Wapp and install it.
4) Open the Twitter Wapp and allow it access.
5) Click the blue button to finish the connection
6) Authorize the APP
7) Now you can send Tweets from the Twitter API and directly from your Twitter (virtual) device.
Try it out!
Connect with Wappsto:bit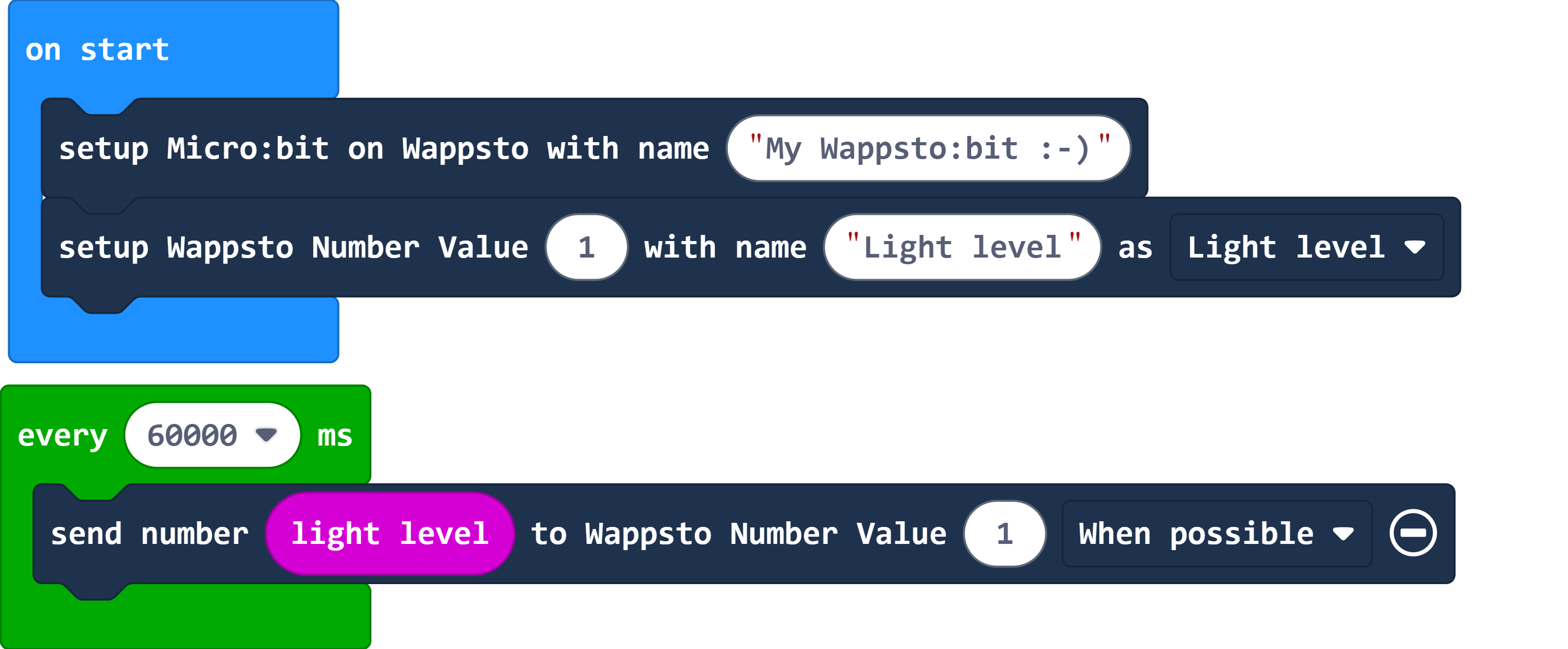 Get your Wappsto:bit ready!
We'll make a light level alarm, that Tweets.
0) If it's your first time using Wappsto:bit, visit bit.wappsto.com/setup first!
1) Program your Wappsto:bit with the code to the left, or download it directly from MakeCode by clicking here.
2) Place it in a dark drawer, so you can receive an alarm if it is opened!
Set up Blocks program!
1) Open/Create a project and give it a cool name.
2) In the left side, click Wappsto, then click Select Devices.
3) Choose the devices you wish to generate blocks for.
4) Grab the Light level block and the send block, and a "Set value x to x" block from the Wappsto category
5) Grab a "If,do" block, and a x = x block from the Logic category
6) Grab a number block from the Math category.
7) Set up as follow:
On Value Change <Light level block> with <data> do:
If <data> does not equal <number 0>:
do Set value <send> to "Your alarm message!"
8) Press save in the top right corner and your Wapp is running, time to test it out!
Don't Miss Out on Awesome Projects and News
Stay in the Loop and Join our Newsletter!
Learn together with Wappsto:bit
Start experimenting with fun projects