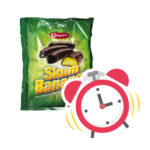 It's time to secure your precious belongings 🍭🍫🍬with a drawer alarm!⏰
Watch how Simon uses the Wappsto:bit to catch Heather stealing his candy!
And then it's time to build your own alarm, to secure your candy 😊
In this Wappsto:bit Academy project we will build a candy drawer alarm, using the light level sensor on the micro:bit
This alarm will will let you know on Wappsto if the alarm is triggered, while it sounds an alarm to scare off intruders!
We will be using 5 elements in this pretty advanced code:
On start: Set up values and crank up the volume
Forever: What state is the alarm in?
0 = OFF1 = Alarm will turn ON if it sees light (keep in a dark drawer)
2 = ON
On String Value (16) received from Wappsto: Activate or deactivate your alarm from Wappsto
On button A pressed: Start the alarm in 5 seconds
On button A+B pressed while the micro:bit logo is also pressed: turn off the alarm
What are you going to protect? And how would you improve the code?
Learn together with Wappsto:bit
Start experimenting with fun projects